Columbus Recreation and Parks Department's Forestry section is solely and legally responsible for all public trees in Columbus that grow along streets, in public parks and on all city properties. The Forestry section has knowledgeable and skilled staff with industry-recognized qualifications and certifications, including International Society of Arboriculture (ISA) Certified Arborists, ISA Certified Tree Workers and staff who are Tree Risk Assessment Qualified. Our Forestry staff plants, prunes and removes trees and grinds stumps on public properties. Forestry crews work on Columbus' streets, inspecting public trees and completing work orders. Forestry staff are on call 24 hours a day to respond to tree-related emergencies. Forestry staff also review and comment on development plans when there are potential impacts to trees.
The Forestry Section operates a 45-acre tree nursery. The nursery meets the needs of the City's tree planting program by providing diverse bare root and container-grown tree species that are not available at local commercial nurseries. Nursery staff are vital to Forestry operations, inspecting and caring for young trees in addition to on-site nursery activities. In addition to trees grown at the nursery, Forestry staff purchase and plant trees through professional contracts.
Report Storm Damage / Emergencies
Do you have recent damage from fallen branches or trees from city property?
Contact the 311 Customer Service Center at 614-645-3111 or submit a service request online.
Do you have a non-life threatening emergency due to trees that have fallen on city property? If this occurs after Forestry's business hours, which are Monday through Friday, 7 a.m.-3:30 p.m., excluding holidays, call the Columbus Division of Police at 614-645-4545.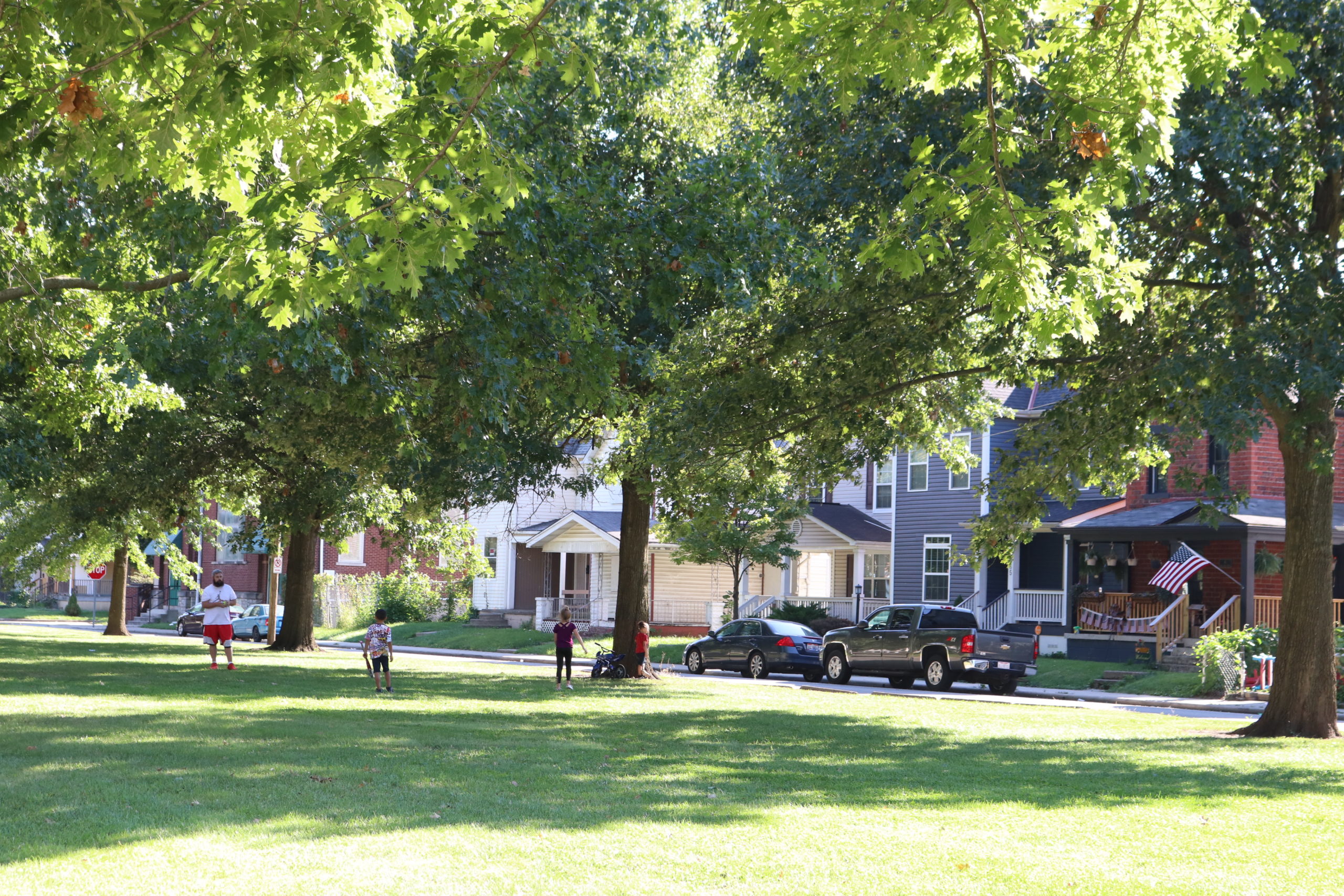 Urban Forestry Master Plan
The Columbus Urban Forestry Master Plan (UFMP) is a strategic and long-term investment in Columbus's urban tree canopy. Approved in April 2021, the UFMP will guide the entire Columbus community to prioritize, preserve and grow our tree canopy!
Learn More
WHAT IS A STREET TREE? WHAT IS A TREE LAWN?
Street trees grow along roads and are generally located in the tree lawn, an area between the street and sidewalk. The tree lawn is within the street right-of-way and is public property, as are the trees.
WHAT IS THE CITY'S RESPONSIBILITY FOR STREET TREES?
Columbus Recreation and Parks Department's Forestry section is responsible for the planting, pruning and the removal of trees on public property including parks, city properties and street right-of-way.
HOW DO I REQUEST A NEW STREET TREE?
Residents can request a street tree by contacting 311. You can call the City 311 Service Center at 614-645-3111 or visit 311.columbus.gov.
I WOULD LIKE TO HAVE A STREET TREE PRUNED OR REMOVED. WHO DO I CONTACT?
For tree maintenance requests of city trees or any other forestry-related concerns, contact the City 311 Service Center at 614-645-3111 or visit 311.columbus.gov. Service requests are prioritized based on the impact to public health and safety and the City's resources. If you prefer to pay a certified arborist to complete the work, see the question below about getting a permit.
WHEN DO I NEED A PERMIT FROM FORESTRY?
If you want to plant a street tree, prune a street tree, treat a street tree for disease or remove a street tree, you will need to hire a certified arborist who will then request a permit from Columbus Recreation and Parks Department's Forestry section. The permit is free, and a City arborist will inspect the tree or site first. The professional contractor will need to complete the work and comply with all of the specifications of the permit. To inquire about a permit and an inspection from a city arborist, contact the City 311 Service Center at 614-645-3111 or visit 311.columbus.gov.
HOW DO I KNOW IF MY STREET TREE SHOULD BE REMOVED?
A city arborist will make an inspection of the city tree to determine if it meets the criteria for tree removal. Trees are removed when they become dead, dying or dangerous.
HOW CAN I SUPPORT THE CITY'S TREE PLANTING EFFORTS?
Sign up for the Urban Forestry Master Plan Updates to learn about implementing the plan and volunteer information to learn about tree planting events.
PLANT AND PRUNE THE TREES ON YOUR PROPERTY.Columbus has ambitious canopy goals, and most trees grow on private property. Planting, preserving and caring for trees is crucial for increasing tree canopy, and we will need everyone's help to reach our canopy goals. Learn some helpful tips about how to plant a tree in your yard! The actions you take affect the entire urban forest. If you already have trees planted in your yard, keep them heathy by pruning them.
DONATE TO COLUMBUS' URBAN FOREST.The nonprofit Columbus Recreation and Parks Foundation can accept donations and grants for urban forestry activities. These activities include planting trees on public land, providing trees to residents and businesses to plant on private land, maintaining current trees, and conducting research, planning or marketing activities that can help grow and maintain our tree canopy.