Hoover Reservoir Parkland
General Information


7 a.m.-11 p.m.

Featured Facilities
Athletic Facilities
Rental Facilities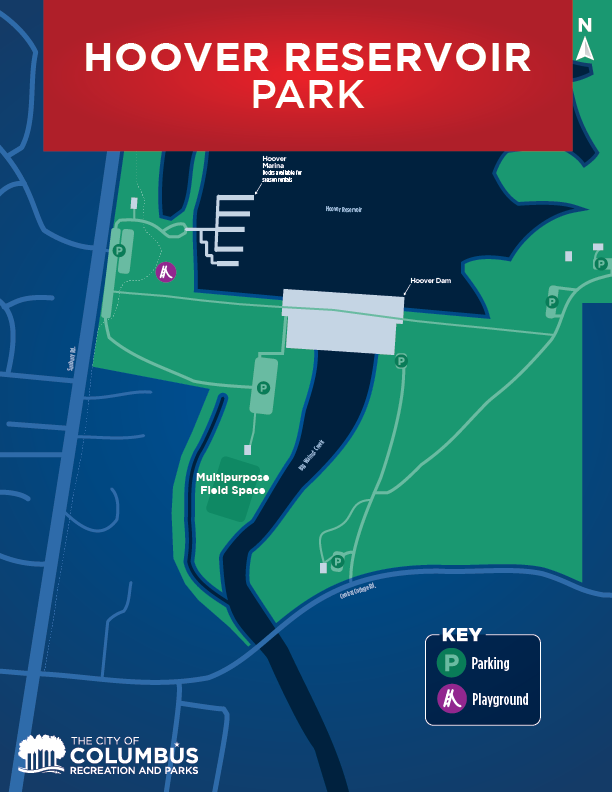 Closure
3/23/2022 The 1,500-foot boardwalk at Hoover Reservoir near Galena has been inspected by professional engineers, and it was determined that the boardwalk is not safe for individuals to use. Because it's not safe to use, the boardwalk will be closed until it has been redesigned and rebuilt.
The next steps include conducting an environmental assessment of the area and doing public outreach with the community to learn what residents would like to see with the redesign of this boardwalk. Investing in this new boardwalk will create a more sustainable and accessible amenity for the local community. The new boardwalk will most likely be completed and open to the public in 2024.
About
Overview
Hoover Reservoir Parkland is a 2052.965-acre reservoir in Westerville. Nearby, you can enjoy Hoover Prairie Nature Preserve, Mud Hen Marsh Nature Preserve and Hoover Nature Preserve.
Rules and Regulations
Maximum Length: 22 feet for all vessels
Maximum Horsepower: 9.9 horsepower
Maximum Speed: 10 mph
Skiing and wakeboarding are not permitted.
Prohibited: Jet skis, tubing and swimming are not permitted in any City of Columbus reservoir.
Watercraft: Don't have a craft of your own? Check out our rental vendors!
Reservoir Information
Hoover Reservoir offers acres peaceful and serene landscape just North of Columbus. The park and lake provide guests with a range of recreational activities from picnicking, hiking, boating and fishing. For bird-watching enthusiasts, the park offers a wide variety of bird types ranging from common to rare. This includes frequent sightings of the American Bald Eagle throughout the year. The reservoir is an important feature for tourism, but also for the water it provides to the City of Columbus.
History
Hoover Reservoir was constructed as a water supply facility by the city of Columbus in 1955.
Additional Information
Before launching a vessel with a motor in excess of 10 horsepower on Hoover Reservoir, which is limited to 10 horsepower and 10mph, the motor must be tilted up and remain tilted while on the reservoir. Motors in excess of 10 horsepower may remain in a non-tilt position provided the prop is removed prior to launch and remains so while on the waterway. This rule is per City of Columbus Ordinance 921.01 and is subject to enforcement by any officer authorized per state code, including State watercraft officers. For questions, please contact the Columbus Department of Public Utilities, Watershed Management Office at (614) 645-1721 or e-mail watershed@columbus.gov
Amenities
2,052.965 Acres

Boat Launch
Paved Path

Picnic Tables

Playground

Pond or Lake
Trailhead

Water Frontage

Woods and Wildlife Area