Whetstone Park and Columbus Park of Roses
General Information


7 a.m. – 11 p.m.

Featured Facilities
Pond or Lake (stocked for fishing)

Athletic Facilities
Rental Facilities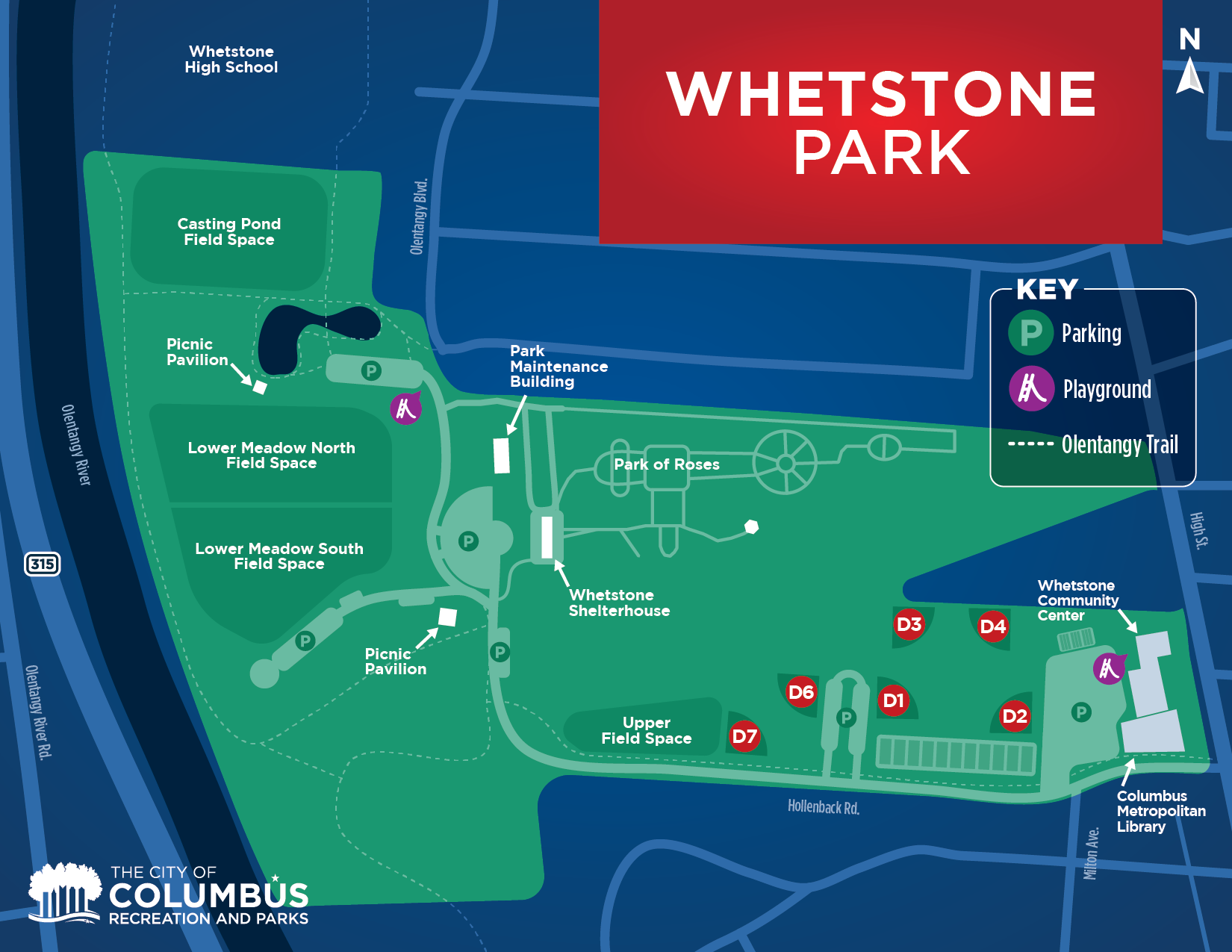 About
Overview
Whetstone Park is a 149-acre regional park in the Clintonville community. Whetstone Park is a trailhead for the Olentangy Trail which provides access to Northmoor Park. Nearby, you can enjoy Webster Nature Preserve.
The Whetstone Prairie, planted in May 2004, converted 5.1 acres of Whetstone Park into native Ohio prairie with vernal pools and woodland buffer. This site is used as a key educational and demonstration site that includes walking trails, viewing stations, information signage and an educational program.
Columbus Park of Roses
The Columbus Park of Roses is a park within Whetstone Park, featuring a 13-acre rose garden that showcases over 350 varieties of roses and 11,000 total roses. The park has five gardens: the Main Rose Garden, the Heritage Garden with turn-of-the-century roses, the Earth-Kind Rose Garden, the Herb Garden and the Perennial Garden. In existence since 1953, the Columbus Park of Roses has garnered many honors, including being one of 133 All-American Rose Selection gardens, selected as one of USA Today's 10 Places to Admire the Bloom on the Rose in 2006, and being one of Columbus' top wedding venues.
The best time to view the roses is during their full bloom which begins in mid-June and lasts through mid-September. For more information about seasonal changes in the park, volunteer opportunities and blog topics, visit www.parkofroses.org
History
Originally a family farm in the early 1800s, the land was purchased by Columbus mayor James A. Rhodes in 1944 and converted into a park for Victory Gardens during World War II. Over 500 Victory Gardens were planted throughout the duration of the war, and on Memorial Day 1950, the land was christened in Whetstone Park.
Amenities
148 Acres

Community Garden

Gazebo
Memorial/Art/History Point of Interest

Parking Lot

Paved Path – 1.6 miles
Picnic Tables

Playground

Pollinator Habitat

Pond or Lake (stocked for fishing)
Trailhead

Water Frontage

Woods and Wildlife Area