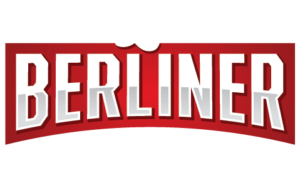 Singletrack
The Berliner Singletrack Mountain Bike Trail is made possible through a partnership with Central Ohio Mountain Biking Organization.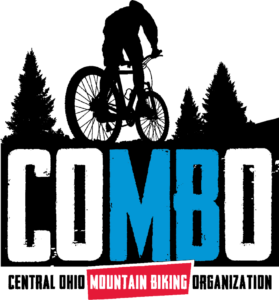 If you discover an issue with the trail, please submit a work request to COMBO.
Lou Berliner Sports Park charges a parking fee during all softball/baseball tournaments. Anyone entering the park during these tournaments will be required to pay the parking fee. For more information, please visit our FAQ.
TRAIL RULES
Use trail at your own risk.
No scooters or unauthorized motorized vehicles on the trail.
Do not use if trail is wet or muddy.
Ride safe—wear a helmet and adhere to safety regulations.
Let others know when you're approaching.
Yield to faster riders.
Do not block the path if stopping.
Respect all trail users and animals.
Leave the trail as you found it.
PARK RULES
No alcohol permitted without a permit.
No tobacco products except within designated areas.
No open flames or flammable liquids.
No overnight parking or camping.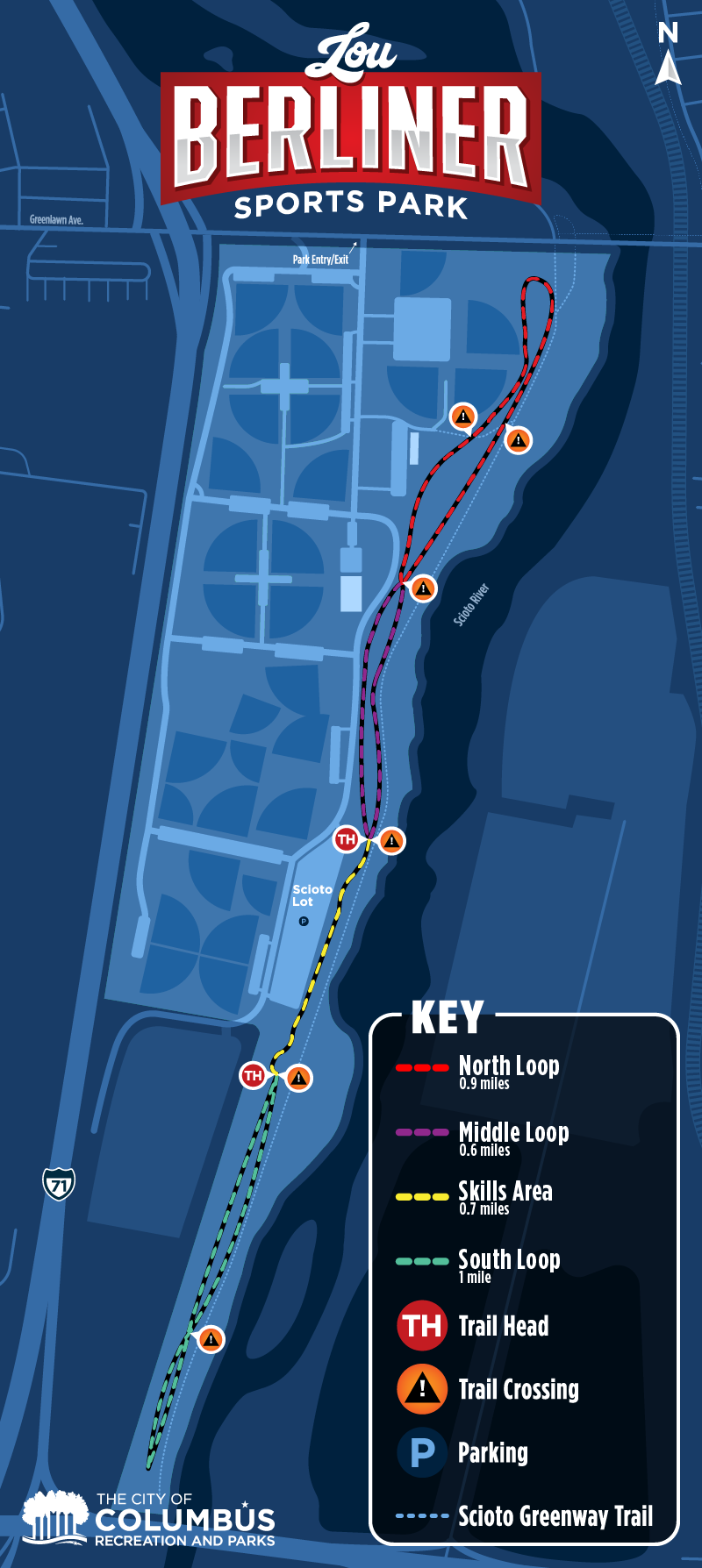 TRAIL ETIQUETTE
Leave No Trace
Avoid wet and muddy trails, which are susceptible to rutting and damage.
Do not cut switchbacks or create cheater lines.
Pull to the edge of the trail—not off the trail—when yielding to other users, repairing your bike or taking a break.
Take all items you brought with you.
Control Your Bike
Always adhere to speed regulations and recommendations.
Always ride within your limits.
Yield to Others
Mountain bikers generally should yield to all other trail users.
Uphill riders typically have the right-of-way.
When rounding blind corners, slow down and call out or ring a bell to let other users know you're coming.
Respect Others and Animals
Give animals and other people room and time to adjust to your presence.
Don't assume an animal notices you, and don't intentionally sneak up on them.
Plan Ahead
Before you visit a trail system, do some research to ensure that:
The trails and conditions are within your ability level.
Your bike is in good working order.
You're prepared with the necessary tools and parts to make common trailside repairs such as a spare tube or tubeless repair kit, tire levers, a multi-tool, a pump or CO2 inflator and a replacement chain link.
You have enough food and water to sustain yourself for the ride.
You're wearing a helmet!
MOUNTAIN BIKE MANNERS
Just Be Nice
Say hello and thank you to fellow trail users.
It doesn't cost anything, and it goes a long way in creating goodwill toward mountain bikers.
Be a smiling, friendly mountain biker!
Shout Out Your Group
If someone pulls over to let you pass, let them know if more riders are coming along behind you.
A simple "just me" or "two more" will let the person know what to expect and when the trail is clear.
Step Aside
No matter how speedy you are, there is almost always someone quicker.
Its proper bike etiquette for the slower rider to pull aside—when there's room to do so safely—and let the faster rider pass.
No Tailgating
Riding too close to another rider can cause accidents.
If you find yourself behind a slower rider, call out that you'd like to pass and give them a chance to pull out of the way safely.
Don't forget to say thank you.
Stay Out of the Way
Whether you're stopped at a trailhead or fixing a flat, its inconsiderate―and dangerous―to block the trail by spreading out across it.
Find a safe place to stop off the main path.